SO PROUD
to announce, once again, that Emma has a great sense of humor.
She is cracking us up these days.
Today at breakfast, I was telling Cole how Aaron had asked Bill if he wanted to play basketball on Saturday.
(Bill's more of a compy type than a ball type, for those of you who don't know that)
and EMMA
says
in full accent and inflection
"The bounce is gone from his bungee"
(from Wallace and Gromit)
sounds like "Tha boonce is goon frrromis boongie"

I was so proud I could spit.
And I thought her Awntie Jinnie would like to know that the dream is alive.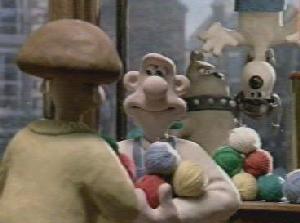 And because I've opened the gates, I have to say them all:

"This is Preston, my doog. "
"Can't stand the stoof. Brings me oot in a rrrash."
"Porridge today, Gromit! Tuesday!"
"Not even Wensleydale?"
"We'll call him Shorn!"

Now on to Creature Comforts, which, if you have not seen, is a MUST SEE.
"We do not have all the...you know...techonological adwances, like, you know...the double glazed windows and such, but I would like to live in a hot cahntry! Where there is water to, you know, dive, to sweem in."
"I like to escape into books and things."
"Well, I don't like be coold, and I don't like being rained on, and I find that here I'm often coold, and I'm often rained on."


*Sigh* I love Wallace and Gromit and that lion in Creature Comforts. Oh Man. And when my kids do the quotes? Well, then I know I've succeeded as a mother.